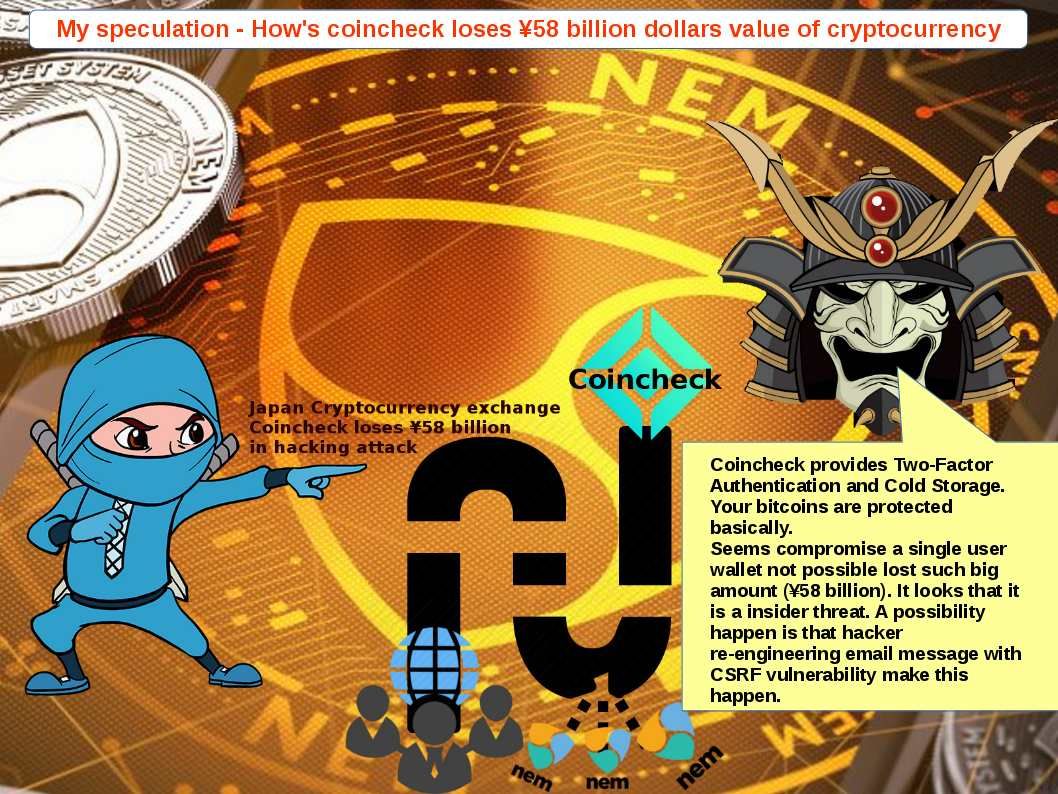 Incident background:
Japan-based company said hackers broke in at 02:57am local time on Friday (12:57pm EST on Thursday, 25 January).
Financial lost: ¥58 billion dollars value of cryptocurrency
Cryptocurrency type: NEM (XEM)
Victim: coincheck.com
Cyber attack historical incident record
The most recent cryptocurrency heist happened on February 2014. The victim firm is Mt. Gox. A bitcoin exchange in Japan. The heist value amount less than ¥48 billion. Coincheck started in August 2014 and is operated by Coincheck, inc. Similar of incident did not happen in past.
Coincheck current cyber defense mechanism
Coincheck provides Two-Factor Authentication and Cold Storage.
Remark: Cold storage in the context of Bitcoin refers to keeping a reserve of Bitcoins offline. Methods of cold storage include keeping bitcoins: On a USB drive or other storage media. On a Paper wallet.
Coincheck follow JBA's guidelines to ensure customers can have use coincheck's services in secure (For more details, please see below url for reference).
http://jada-web.jp/wp-content/uploads/2015/01/SummaryofGuidelinesforJADA_v1-0_20141023.pdf
Secure Random Number Genaration – Customer don't need to worry about vulnerability because coincheck's wallet use RFC6979, a secure way for generating random numbers.
Remark: RFC 6979 makes ECDSA DPA vulnerable at 2 levels.
Control all in first step of RFC, except x which is the secret key K=HMAC_K(V || 0x00 || int2bytes(x) || bits2bytes(h1))
s = kinv (h + r.d): kinv is not known but always fixed for the same input
Key factor found on this incident
Yusuke Otsuka, Chief Operating Officer of Coincheck, said the stolen funds were kept in an online 'hot wallet' as opposed to a much more secure offline 'cold wallet.' However the officical spokeman says that bitcoins are to be stored offline when they are not being traded. Meanwhile CEO Koichiro Wada said its bitcoins were indeed stored offline but that the more than 5 million NEM coins that were stolen were not.
Observation: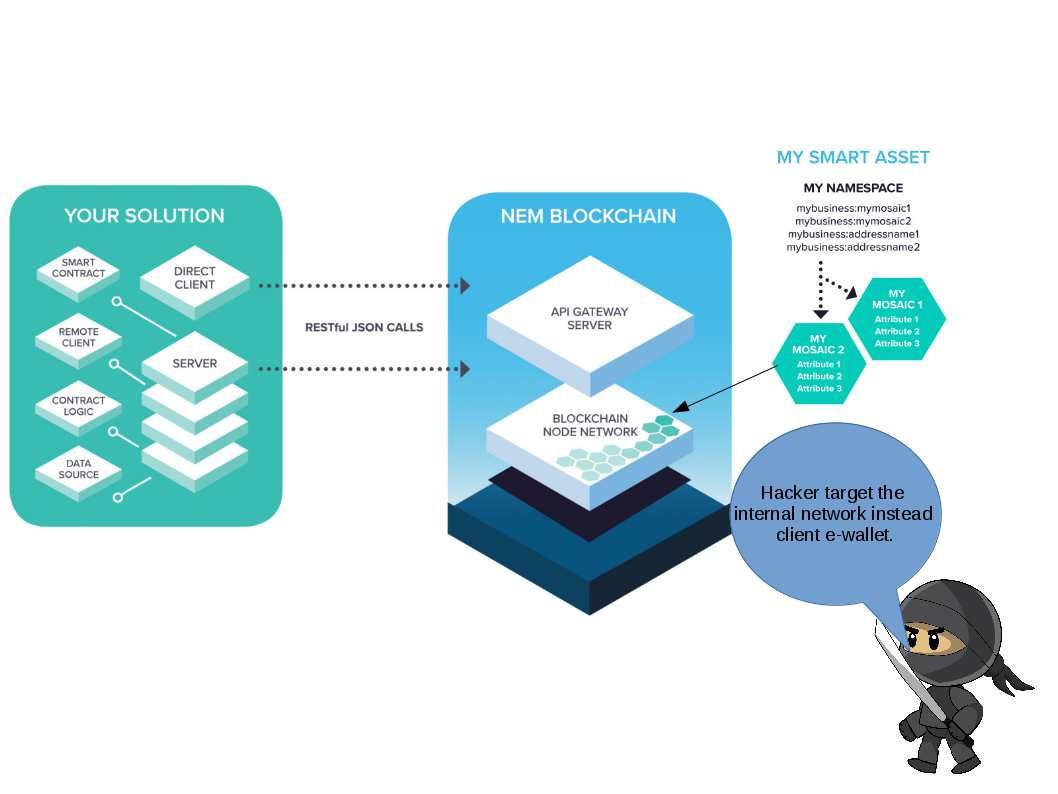 According to the NEM (XEM) platform architecture (refer to above diagram) and the statement provides by the CEO (see below). A hints bring my attention to their company internal network. See whether is there insider threat happen in their office?
Quote: "bitcoins were indeed stored offline but that the more than 5 million NEM coins that were stolen were not."
Speculation:
It looks that implant malicious code then infiltrate malware to the distributed ledge system not easy to success. Since two factor authentication has been implemented. And therefore each transaction will be acknowledged on both parties (bitcoin exchange and end user). May be you can say hacker can counterfeit the SMS message by SS7  flaw. However such huge amount of transaction will be waken support staff.  So I believe that the cyber incident happen this time may have following possibilities.
Phishing email embedded web site cross site scripting and CSRF token is a popular way to stolen the user credential.
Admin console or workstation encountered malware infection.
A Zero day encountered on their open source application.
Summary:
Above assumption is my speculation on hearsay evidence and headline news. Let' me keep my eye open and provide the status update to you guys afterwards.
Reference – information update on 28th Jan 2018
https://www.japantimes.co.jp/news/2018/01/27/national/cryptocurrency-exchange-coincheck-loses-58-billion-hacking-attack/
https://www.reuters.com/article/us-japan-cryptocurrency/hacked-tokyo-cryptocurrency-exchange-to-repay-owners-425-million-idUSKBN1FH03D
Information update on 29th Jan 2018 – CNN claimed that this cryptocurrency heist is the biggest amount. Such huge value of financial lost wasn't happened before! See below url for reference. As we know the most common cryptocurrencies are Bitcoin, Ethereum,Ethereum Classic, Monero, Litecoin, OmiseGO, Ripple & Zcash. Fundamentally NEM Smart Asset System more secure than bitcoin. The NEM Blockchain utilizes a Proof-of-Importance calculation (rather than Bitcoin's Proof-of-Work or PIVX's Proof-of-Stake) to accomplish accord through a procedure that boosts dynamic support in the system. NEM is a peer-to-peercryptocurrency and blockchain platform launched on March 31, 2015. But the value of each coin is underestimation. Why hacker target to NEM. Do you think hacker willing to engage hacking in difficult way ?
http://money.cnn.com/2018/01/29/technology/coincheck-cryptocurrency-exchange-hack-japan/index.html