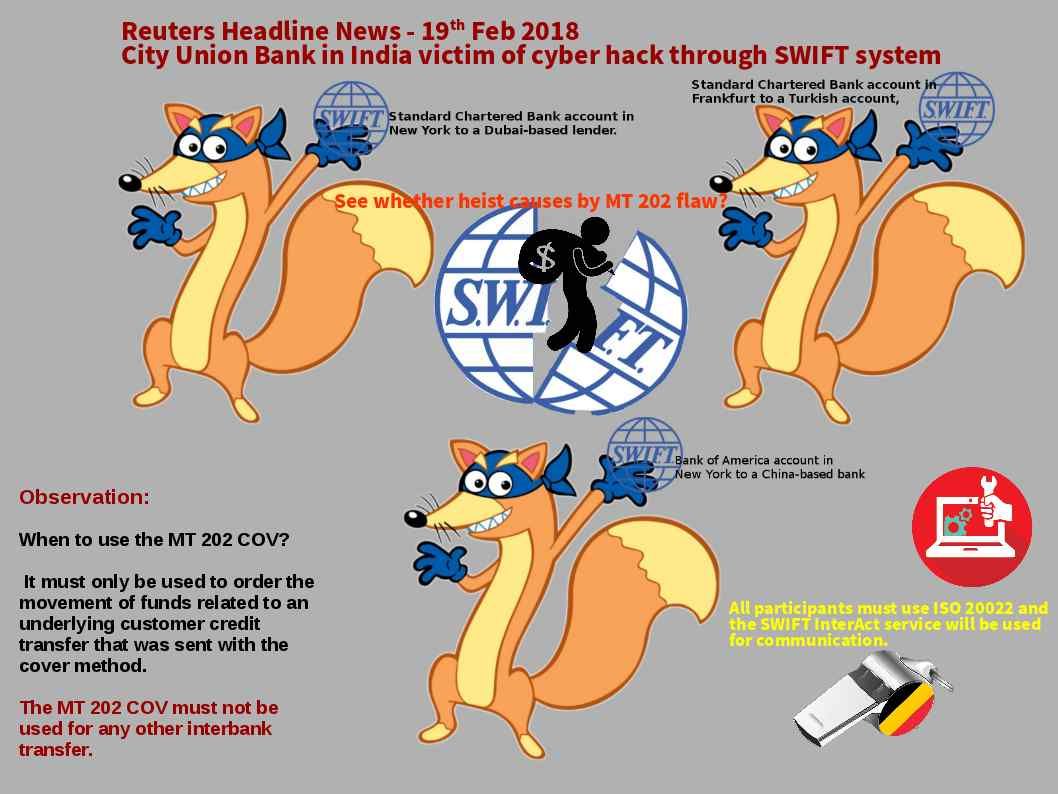 Sounds horrible!
A heist occurred from SWIFT payment system again? Chief Executive Officer N. Kamakodi called it a "conspiracy" involving multiple countries, and added the lender was still investigating how it had happened. But the statement seems not precise to describe.
A fundamental design limitation on original MT 202 message. Perhaps MT 202 COV doing the compensated control. However MT 202 still valid and not end of life yet. A hints input of technical concerns shown on attach picture see whether this is root causes of this incident.
Quote:
When to use the MT 202 COV?
It must only be used to order the movement of funds related to an underlying customer credit transfer that was sent with the cover method.
The MT 202 COV must not be used for any other interbank transfer.
MT 202 design weakness lure financial crime
i. Suspicious activity monitoring on the underlying originator and beneficiary in the message would not be performed.
ii. The originating bank could be in a jurisdiction with different sanction watch lists and the technical capabilities of each bank's sanction screening program could vary.
City Union Bank in India victim of cyber hack through SWIFT system (19th Feb 2018) – See following URL (Reuters Headline News) for reference.
https://www.reuters.com/article/us-city-union-bank-swift/indias-city-union-bank-ceo-says-suffered-cyber-hack-via-swift-system-idUSKCN1G20AF?feedType=RSS&feedName=technologyNews