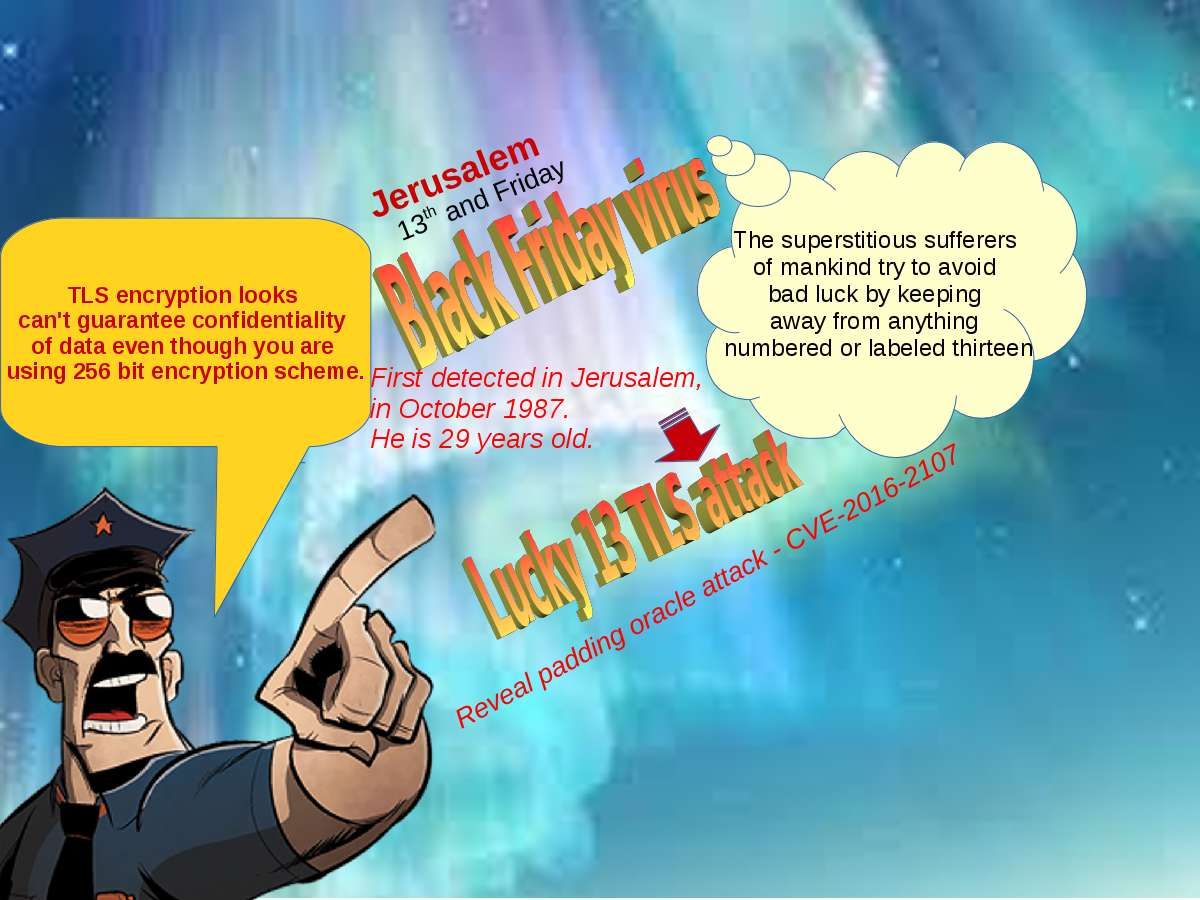 We are living on earth. The human being ancestor went through different generations of reforms. As a result modern civilization today. The foundation of civilization build by different elements and objects. A major element named logic, it structure cause and effect. Above definition involve successful factor of result. However some sort of things happen on earth looks mystery. Quote an example, Friday the 13th is considered an unlucky day in Western superstition. From scientific view point, such superstition it doesn't make sense and no background factor support. By coincidence when you go to cosmopolitan city like Chicago or New York. You couldn't found 13th Floor on escalator? Even though without scientific factor support this superstition whereas No.13th or Black Friday bring us psychological impact. We continue this discussion but our focus will go to cyber security. Up to this point, you might have question to ask? Why do we spend time on preface mention superstition topic?
Do you remember Jerusalem virus?
A virus first detected in Jerusalem, in 13th October 1987 (Black Friday). This virus hook itself on MS DOS services and capable run malware function. But internet communicate services not available at 80's. How does it work? The virus program contains one destructive payload that is set to go off on black Friday (Friday the 13th). This is the 1st time let IT guru know a cyber attack schedule Friday the 13th Jan 2016. Below is the source code highlight for reference:
mov ah,

02

Ah             ; Get system data
int 

021

h
mov byte cs:[zap],

00

H
cmp cx,

07

C3h            ; CX->Year, 

7

C4h=

1987


jz done                 ; 

Do

 nothing if1987
cmp al,

05

h              ; AL->Day,

05

h=Friday
jnz otherpload          ; No zap 

if

 not Fri
cmp dl,

00

h              ; DL->Date, 

00

h=

13


jnz otherpload          ; No zap 

if

 not 

13

th
inc byte cs:[zap]       ; 

Else

 turn on ZapFlag
jmp done
nop


Attack concept and idea – take advantage of the computer instruction set design limitation. For more details, please see below:
If the interrupt flag (IF) is set (=1) then external hardware can initiate an interrupt via the INTR input of the microprocessor.
If IF flag is clear (=) then the external device cannot initiate an interrupt.
Jerusalem code itself hooks into interrupt processing and other low level DOS services. This type of infection technique looks similar of the privileges escalation method run by malware today!
Keep away from anything labeled thirteen
Unfortunately, cyber incident occurs in 2013, coincidence that magic number thirteen was involved in the naming convention scheme. It is a crypto TLS vulnerability. Before we discuss what is lucky 13. Let's do a quick review of TLS & SSL/TLS protocol architecture in below info graphic diagram.
Overview of TLS & SSL/TLS protocol architecture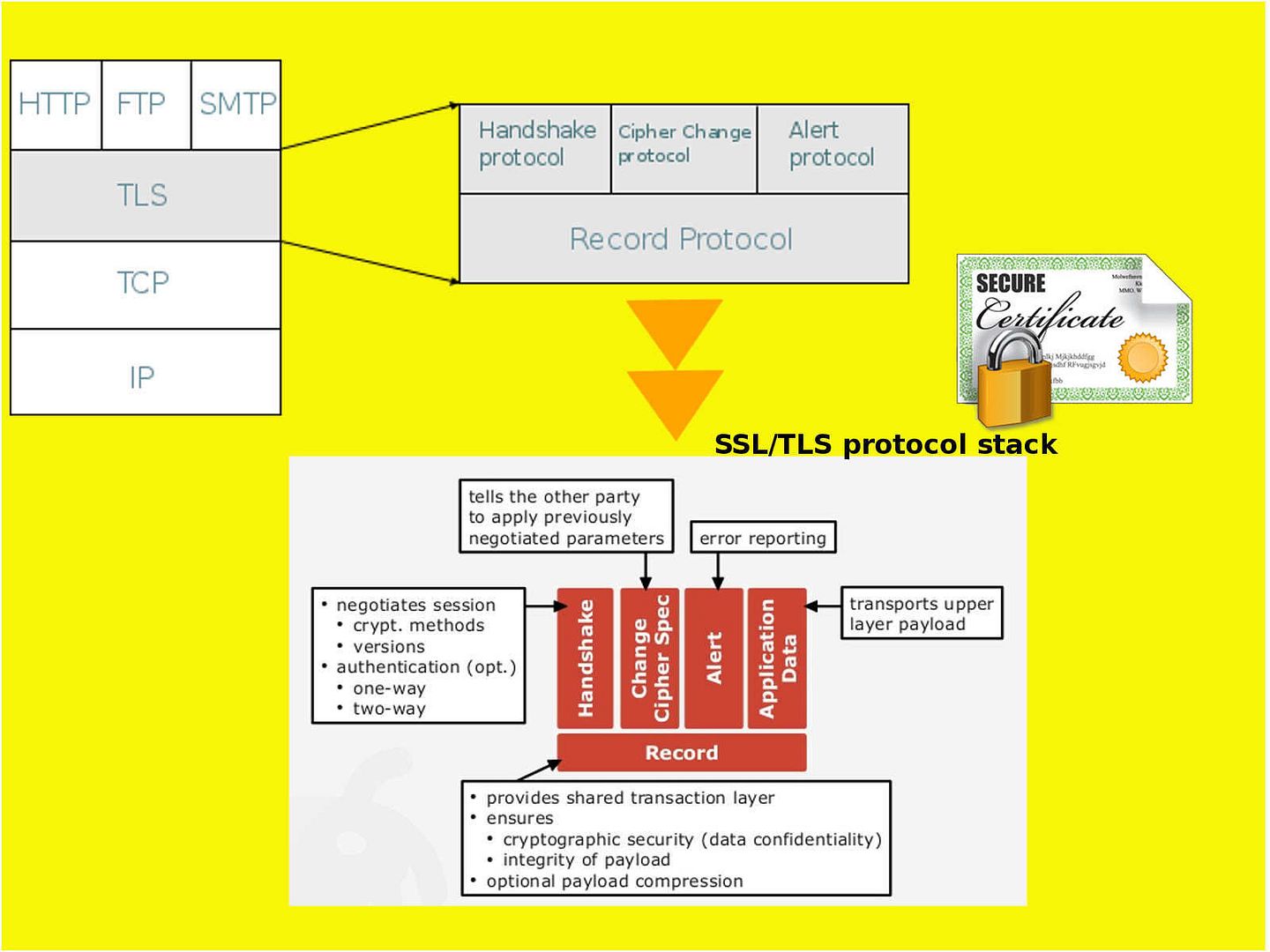 As we know, there are total 4 types of SSL attack recently.
Beast attack
Crime attack
Lucky 13 attack
RC4 attack
To be honest, lucky 13 not equivalent to the meaning of his name. It is a cryptographic timing attack against implementations of the Transport Layer Security (TLS) protocol originally.
What is timing attack? (see below)
The attack allows a man-in-the-middle attacker to recover plaintext from a TLS/DTLS connection when CBC-mode (cipher-block chaining) encryption is used. Man-in-the-middle timing attack against TLS that exploits the interaction between how the protocol implements AES in CBC mode for encryption, and HMAC-SHA1 for authentication.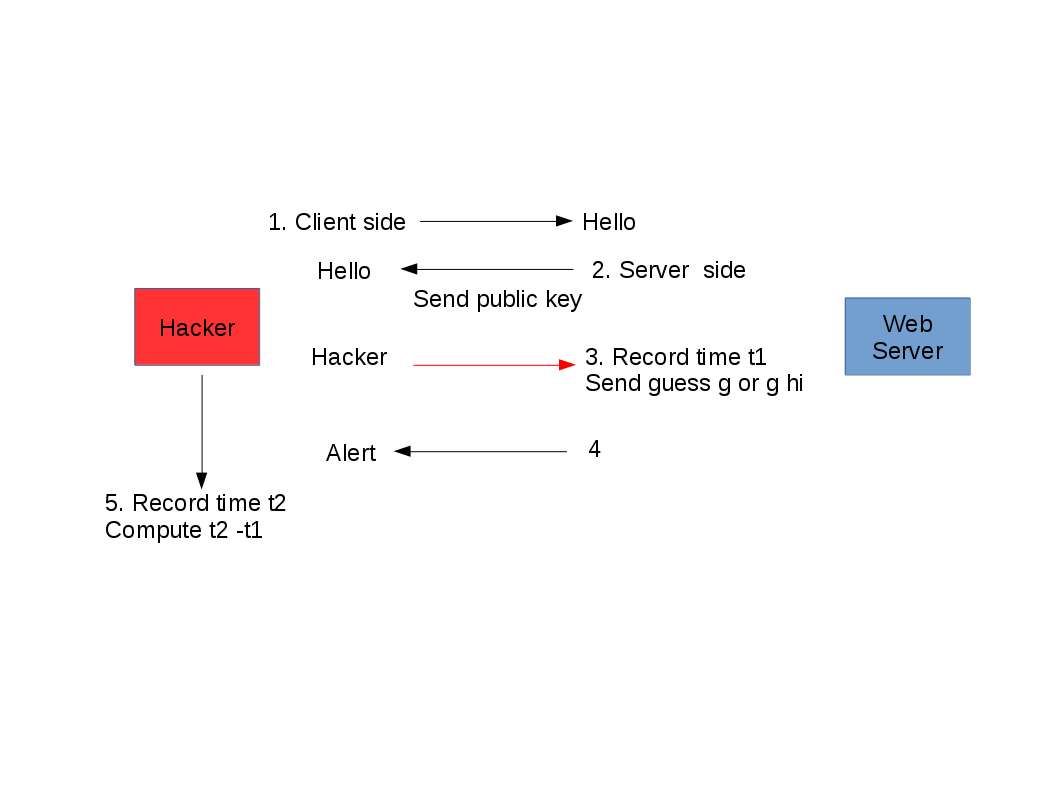 CVE-2013-0169 – The TLS protocol 1.1 and 1.2 and the DTLS protocol 1.0 and 1.2, as used in OpenSSL, OpenJDK, PolarSSL, and other products, do not properly consider timing side-channel attacks on a MAC check requirement during the processing of malformed CBC padding, which allows remote attackers to conduct distinguishing attacks and plaintext-recovery attacks via statistical analysis of timing data for crafted packets.
Predict more security bug in future, it is a fundamental design limitation so called MAC then encrypt
Encryption algorithm tried to apply it to TCP/IP but the model does not match well TCP/IP. Some things don't fit in the layers, and SSL/TLS is one of them.
D(TLS) encryption process (see below):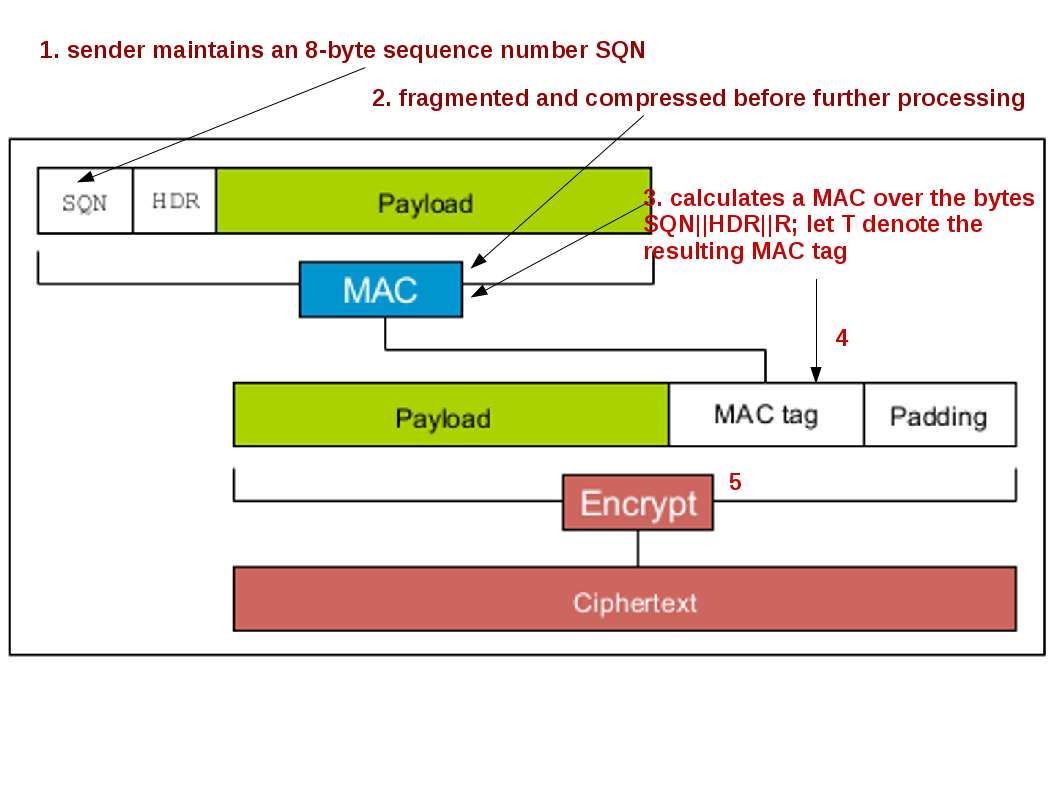 SSL/TLS uses an underlying transport medium that provides a bidirectional stream of bytes. That would put it somewhere above layer 4.
SSL/TLS organizes data as records, that may contain, in particular, handshake messages. Handshake messages look like layer 5. This would put SSL/TLS at layer 6 or 7.
However, what SSL/TLS conveys is "application data", which is, in fact, a bidirectional stream of bytes. Applications that use SSL/TLS really use it as a transport protocol. They then use their own data representation and messages and semantics within that "application data". Therefore, SSL/TLS cannot be, in the OSI model, beyond layer 4.
The Lucky13 attack triggered a series of TLS technical concerns . Yet another Padding Oracle vulnerability found in May 2016 (see below)
Padding oracle in AES-NI CBC MAC 

check

 (CVE

-2016-2107

)
======================================================

Severity: 

High



A MITM attacker can 

use

 a padding 

oracle

 attack todecrypt traffic


when

 the 

connection

 uses an AES CBC cipher 

and

 the 

server

 support
AES-NI.

This issue was introduced 

as

 part 

of

 the fix 

for

 Lucky 

13

 padding
attack (CVE

-2013-0169

). The padding 

check

 was rewritten 

to

 be inconstanttimeby making sure that 

always

 the same bytesarereadand
compared against either the MAC 

or

 padding bytes. But it 

no

 longer
checked that there was enough datato have 

both

 the MAC 

and

 padding
bytes.

OpenSSL 

1.0.2

users

 should upgradeto1

.0.2

h
OpenSSL 

1.0.1

users

 should upgradeto1

.0.1

t

This issue was reported 

to

 OpenSSL on13th 

of

 April 

2016

by

 Juraj
Somorovsky 

using

 TLS-Attacker. The fix was developed 

by

 Kurt Roeckx


of

 the OpenSSL development team.

Interim summary:
A good practise on web server to mitigate the risk:
Control requirement on web server
Do not configure wild card certificates
Certificate to be signed by trusted certificate authority (CA)
Ensure session cookies have "secure=true" flag set
Ensure HSTS header is set for domain and sub domain