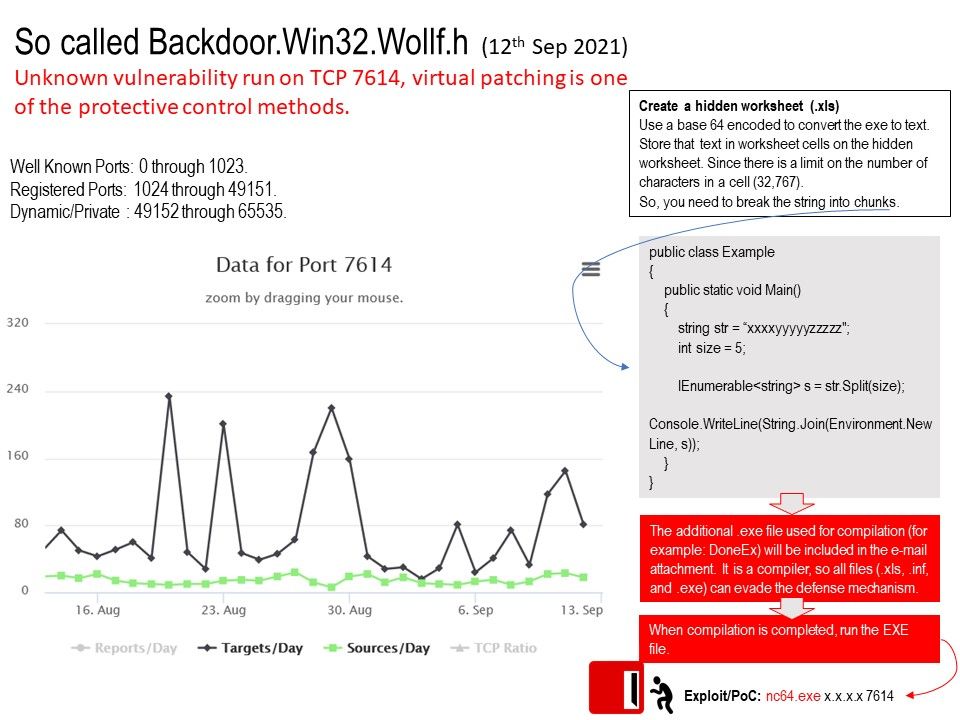 Preface: Virtual patching acts as a safety measure against threats that exploit known and unknown vulnerabilities. Virtual patching works by implementing layers of security policies and rules that prevent and intercept an exploit from taking network paths to and from a vulnerability.
Background: This is so called Evasion Techniques. One of the first techniques that attackers use to avoid antivirus detection. The idea used by malware authors is do reverse engineering the software design. The goal is to obfuscate the defense mechanism detection. The files using de-assembly method for landing the victim workstation.
Create a hidden worksheet. Use a base 64 encoded to convert the exe to text. Store that text in worksheet cells on the hidden worksheet. Since there is a limit on the number of characters in a cell (32,767), cyber criminals need to break the string into chunks.
Security Focus: A Backdoor program (Backdoor.Win32.Wollf.h) was found in victim workstation. It has been rated as critical. Affected by this issue is some unknown functionality of the component Service Port 7614. Wollf backdoor creates a service named "wrm" and listens on TCP port 7614, there is no authentication allowing anyone to take over the infected system.
Workaround: Addressing this vulnerability is possible by firewalling or MSSP can be used to assist in implementing virtual patches to solve this problem.
Infection channel: Excel file with malicious code embedded in email attachment.