Apple developers work hard on  iCloud security to improve the security. They are in an effort to encourage adoption of the two factor authentication standard. Since Apple device did a good job in end point device so far. And therefore it such a way reduces of inherent risks. However it is hard to avoid the vulnerability happen on application side since development source code is open. Apart from that it is hard to refuse the open source application deployment.
As we know a Apple release security patches on 23rd Jan 2017, a common vulnerability criteria focus on a web component. Yes, it is WebKit. Let start the story from scratch.  Be my guest. Let's start the journey!
Why Use WebKit?
Some applications are full-featured browsers, but more often applications embed web content as a convenience, as in a custom document system. WebKit is a layout engine software component for rendering web pages in web browsers.
Since found a flaw on WebKit,  a rogue web page can crash the browser because all code runs in the same process. New version of webkit (Webkit2) enhance Safari architecture. It aim to avoid this design limitation. It enforce to separate the code into two different processes. That is User Interface and web page process maintain their specify process. Below detail shown that how Webkit 2 architecture improve the Safari process isolation feature.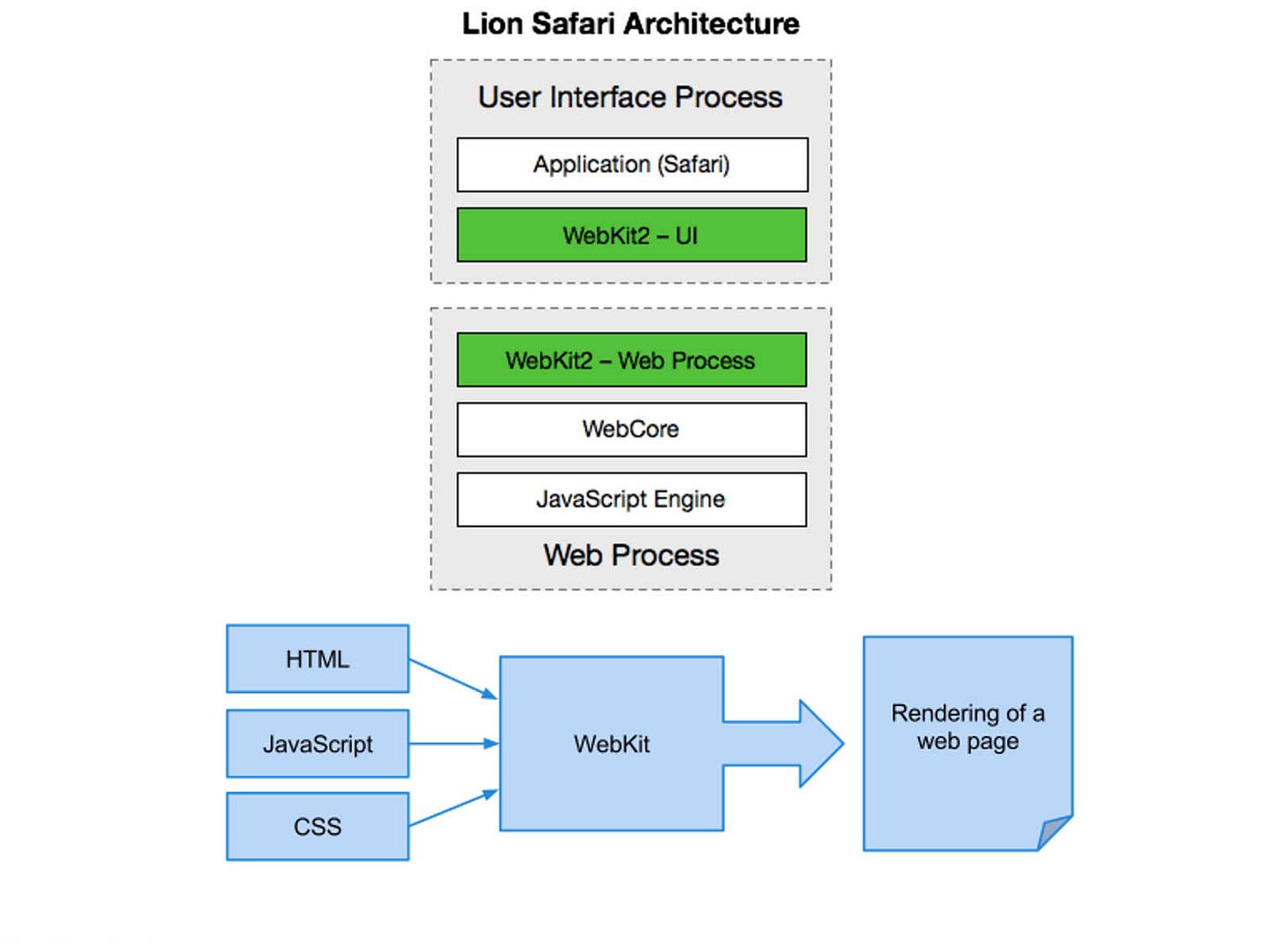 As times goes by, Webkit features like a major component embedded in web browser (see below).
However it bring up cyber security world concern on 2012. A heap memory buffer overflow vulnerability exists within the WebKit' JavaScriptCore JSArray::sort(…) method.
This design limitation accepts the user-defined JavaScript function and calls it from the native code to compare array items.
If this compare function reduces array length, then the trailing array items will be written outside the "m_storage->m_vector[]" buffer, which leads to the heap memory corruption. At this time, you may ask, does the webkit or webkit 2 design flaw only apply to Apple devices? I believe that it apply to all different brand name of vendors which make use of webkit or webkit2.
The exploit was due to an heap buffer overflow issue in JavaScriptCore JSArray::Sort() method. Below details of program syntax will bring you an idea in this regard.
Cyber attack transformation = Attack from local device to Virtual server machine.

Hacker looks exploits the vulnerability of WEBKIT, a weakness hints that hacker can transform the ROP(return oriented programming) as attack weapon. A technical article published by IEEE records the following scenario.
Important: An approach to attack on the Xen hypervisor utilizing return-oriented programming (ROP). It modifies the data in the hypervisor that controls whether a VM is privileged or not and thus can escalate the privilege of an unprivileged domain (domU) at run time. As ROP technique makes use of existed code to implement attack, not modifying or injecting any code, it can bypass the integrity protections that base on code measurement. By constructing such kind of attack at the virtualization layer.
Sounds horrible on above matters! Why? If such hacker technique develop in advance. So the virtual machine run on cloud farm will become a victim.  Hey, same scenario looks possible happened in iCloud. The side effect is that it is not only compromise a single icloud container (single device), it effect the whole unit of icloud. Below IEEE technical article highlight is the proof of concept. If you are interest, please do a walk-through of this document highlight. I am afraid that this article might have copyright. And therefore not going to copy all the articles. Should you have any interest, please visit IEEE publisher web site to find out more.
A rumour concerning "rumblings of a massive (40 million) data breach at Apple." Believe it or not? In the meantime, if you are the apple fans, you must re-confirm all the patches provided by Apple Corp.  Keep run don't stop! For more details, please refer to below url for reference.
Reference:
The latest software updates from Apple