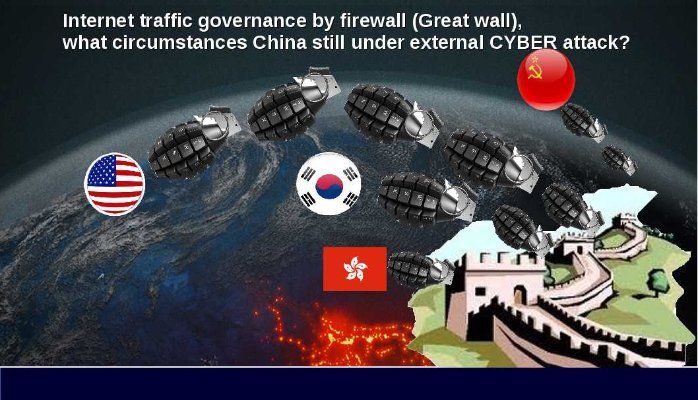 The surveillance program in China running in visible level. China government defined traffic monitoring scheme, the People live in China entitled to benefits of citizenship must accept this policy.A well known secret indicated that a giant (Great wall) monitoring the inbound and outbound internet traffic continuously. Sounds great! From technical point of view, workstation located in China is under government protection. The benefits is that overall hit rate with cyber attacks will become lower. We are not a politicians for not going to speculate the reason to establish this security facility. But it looks that there is no perfect defence mechanism in the world. The Internet Security Threat Report on June 2016 provides the following parameters.
Web sites for remote control
3,637 foreign IP addresses through the backdoor arrived to the territory.
6,618 websites encountered cyber attack causes hacker remote control.
Remark: Among them, foreign suspicious IP address is located mainly in the United States, China, Hong Kong and South Korea and other countries or regions.
Foreign countries IP address relies on backdoor might came from Russia . They are execute web server remote control. The total suspected IP addresses are 1,667.
Website implanted backdoors, ranks in high volume.
Besides, implanted backdoor attack IP address covered US and Hong Kong area. The total statistic are 1129 came from US and 808 came from Hong Kong.
Reference: Internet stats for 2016
China, as a country, has the most internet users; with an estimated 640 million internet users, the number of internet users in China is twice the number of the entire U.S population.
What's the reason?
Major Factor:
1. Enterprise firm Site to Site VPN connection bypass Great Wall governance: If there is security weakness occurs in their server system and network backbone. Hackers are able to relies on those vulnerabilities of the system  activate the cyber attacks.
2. Remote Proxy services bypass Great Wall
A terminology so called internet censorship circumvention, the method is establish a encryption tunnel, the tunnel end point of connection is the foreign countries proxy gateway. It is a onion network, if one of the proxy server not in service, the proxy services application will search another available gateway.
Since the network datagram was encrypted by TLS/SSL. The version update in frequent. From certain point of view, great wall might not decrypt the network traffic and such a way let him go!
3. Layer 2 Tunneling Protocol (L2TP) bypass Great Wall
The PPTP/L2TP/SOCKS5 protocols are provided for devices lacking compatibility with the Private Internet Access application or OpenVPN protocol. PPTP/L2TP/SOCKS5 should be used for masking one's IP address, censorship circumvention, and geolocation. As far as I know, Great wall have capability to deny this network traffic.
4. Flaw found in ASN.1 compiler – for more details refer below url for reference.
https://www.linkedin.com/pulse/flaw-found-communications-industry-yet-determined-1-picco
China's intelligence mobile phone has high growth rate. Since it is intelligence device, it is a mobile computing device. From technical point of view, it looks a workstation with Internet connection feature. China Mobile Phone Users reached 1.306 Billion in 2015. It is hard to guarantee 1.306 Billion mobile phone are compliance. That mean OS is the latest version, anti-virus installed with update pattern. To be honest it is not easy! With so many people dependent on mobile devices to communicate and work, mobile network security is more important than ever.
Additional information – SCMP regarding China Firewall
http://www.scmp.com/news/china/policies-politics/article/1922677/china-blocks-vpn-services-let-users-get-round-its-great
Any other? Is your turn to input. Be my guest!