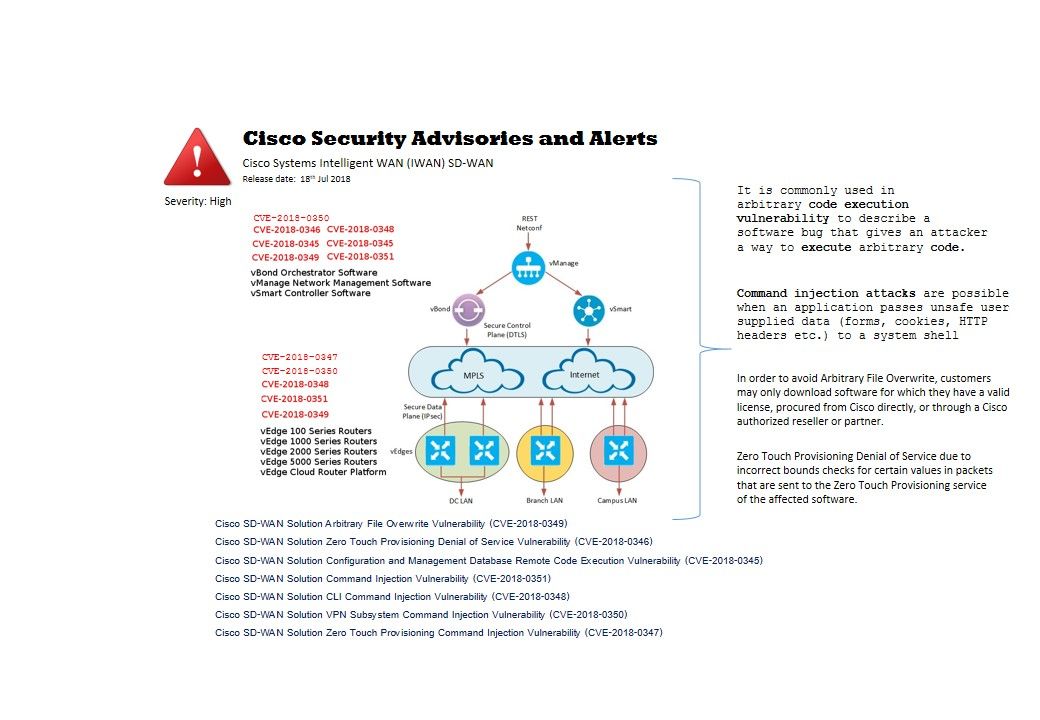 Intelligent WAN (iWAN) is a Cisco SD-WAN product that was built from an existing Cisco product (also called iWAN).
How do you deploy Cisco SD-WAN?
• Cloud-based management and vAnalytics dashboard
• Virtual or physical secure routers for on-premise or cloud
• In-house IT or managed service with service providers or system integrators
• Capital Expenditures (CapEx) and annual subscription licenses or
enterprise-based agreements
If you are the cisco SD WAN /iWan customer, you should stay alert in below items.
Cisco SD-WAN Solution Arbitrary File Overwrite Vulnerability – https://tools.cisco.com/security/center/content/CiscoSecurityAdvisory/cisco-sa-20180718-sdwan-fo
Cisco SD-WAN Solution Zero Touch Provisioning Denial of Service Vulnerability – https://tools.cisco.com/security/center/content/CiscoSecurityAdvisory/cisco-sa-20180718-sdwan-dos
Cisco SD-WAN Solution Configuration and Management Database Remote Code Execution Vulnerability – https://tools.cisco.com/security/center/content/CiscoSecurityAdvisory/cisco-sa-20180718-sdwan-cx
Cisco SD-WAN Solution Command Injection Vulnerability – https://tools.cisco.com/security/center/content/CiscoSecurityAdvisory/cisco-sa-20180718-sdwan-coinj
Cisco SD-WAN Solution CLI Command Injection Vulnerability – https://tools.cisco.com/security/center/content/CiscoSecurityAdvisory/cisco-sa-20180718-sdwan-cmdnjct
Cisco SD-WAN Solution VPN Subsystem Command Injection Vulnerability – https://tools.cisco.com/security/center/content/CiscoSecurityAdvisory/cisco-sa-20180718-sdwan-cmdinj
Cisco SD-WAN Solution Zero Touch Provisioning Command Injection Vulnerability – https://tools.cisco.com/security/center/content/CiscoSecurityAdvisory/cisco-sa-20180718-sdwan-ci