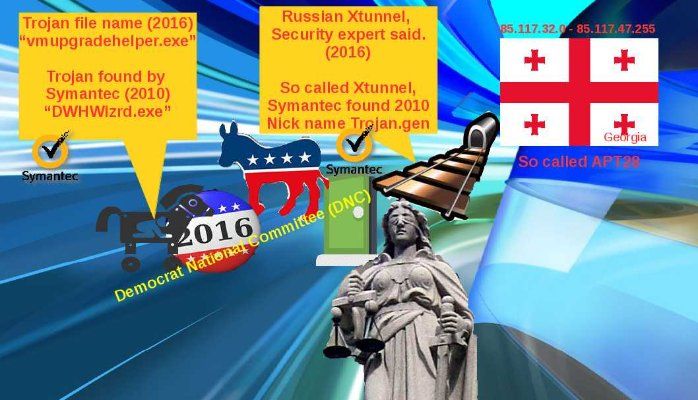 The headline news this week focus 2016 election of US president scandal.Just heard email leakage by Mrs. Hillary Clinton. The election in political world is a War instead of competition. This articles focus on unexplored information in DNC hack incident.
Findings by Invincea
The technical report provided the analytic that DNC hack incident caused by Trojan. Hackers modified end-of-life software product. The hacker injects Trojans and Malware functions into software. The software developed by China application vendor (Xten), it aimed to enhance voice stability operations in firewall environment. The software such a way involved unredressed injustice. Regarding to the report, hackers relies on Remote Access Trojan (RAT) technique sojurn to workstations belongs to Mrs. Hillary Clinton. The finger print shown that the hack group might belongs to APT 28. Regarding to the virus incident track records, the source IP address of this Trojan (Malware) came from 85.117.47.0/24.
How was it infect?
The infection method was that unsuspecting users manually executing unknown programs. Distribution channels include e-mail, malicious or hacked Web pages, Internet Relay Chat (IRC), peer-to-peer networks, etc.

Wide Angle Lens – invaded DNC
1st version of Trojan (born before 2010):
Check repository of virus database. The anti-virus vendor Symantec found this virus in 2010. His naming convention is "Generic Trojan". However this Trojan (malware) headache Symantec more than 2 years. The problem was that antivirus program quarantine the execution file of Generic Trojan. The sterilize step is going to rename the original file name DWHwizrd.exe to DWHxxx.tmp. However Symantec customers found that virus alert message pop-up after Trojan quarantined. Symantec technical support provides many solution to client. But unfortunately problem still persists. The customer report that virus alert displayed on screen even though you delete all the temp files. Heard that problem was fixed in mid of 2012.
Why does hacker reuse this Trojan (malware) ?
Since China software house (Xten) created a family of SIP products based on their XTunnel protocol and run on top of windows. The benefits is that the software establish voice IP tunnel might mislead the technical staff and security administrator. They think she is using soft-phone! As usual traffic encrypted and therefore firewall can't monitor. Or this is her personal computer, no nobody know what is happen?
Hacker relies of the software vulnerabilities re-issue next generation of Trojan.
The Xten software is a windows base open source tool and it is end of product life cycle. I believed that it is a easy way for hacker design a Trojan in short time. Since MD5 checksum different for new generation of Trojan. Therefore antivirus vendor may not aware until user report. But personally, I suspected that hackers might know the weakness of anti virus program install on target machine and custom made virus or trojan (malware). Symantec found the Trojan file name in 2010 is DWHwizard.exe. Invincea found the malicious file on victim workstation with naming convention vmupgradehelper.exe. It looks that anti-virus programs are able to detect this Trojan after 11th July 2016 (Hillary email leaks scandal open to public).
Doubts:
1. Since Xtunnel establish site to site connection. Mrs. Hillary Clinton works with US government at that time. It was confused that the defense mechanism in US government did not alert the victim workstation connect to APT 28?
2. Even though Mrs. Hillary Clinton not working in office. Do you think there is only one cyber defense program (antivirus) install on such important person workstation?
Headline News status update on 31st Jul 2016
http://www.nytimes.com/2016/07/30/world/europe/dnc-hack-russia.html?_r=0
Expert findings – so called Russian Xtunnel
https://www.invincea.com/2016/07/tunnel-of-gov-dnc-hack-and-the-russian-xtunnel/