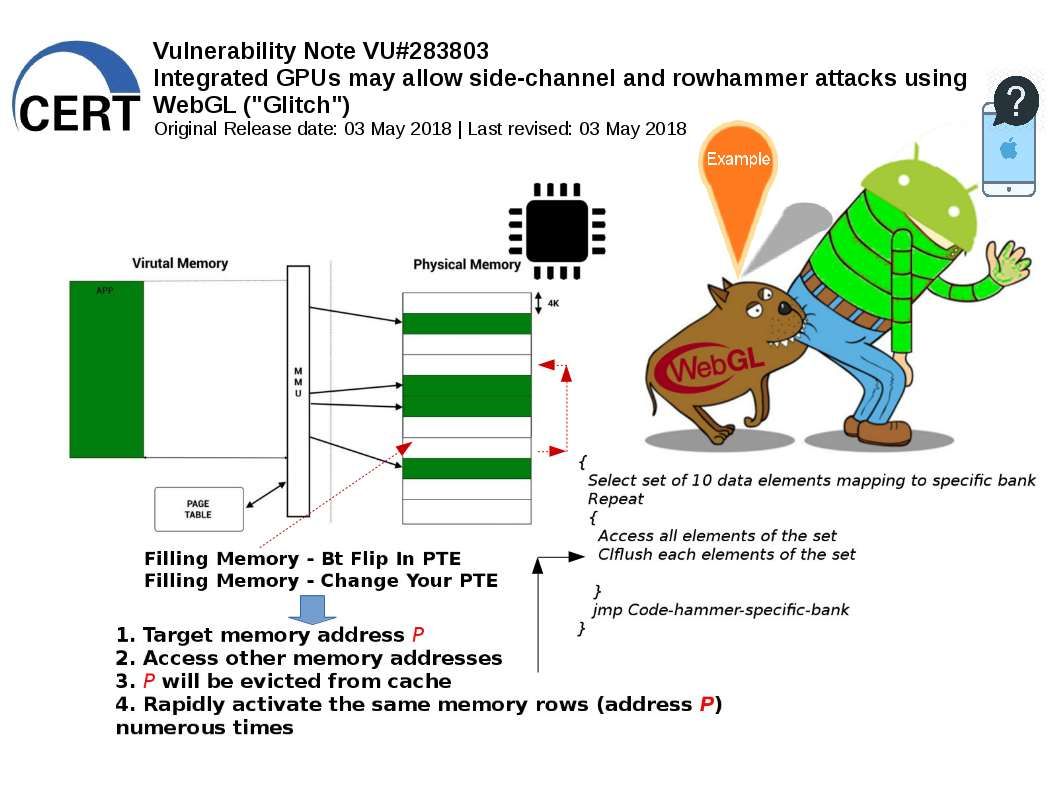 The side-channel attack looks never ending in CPU world.
So called rowhammer attack jeopardize to the cyber security world today especially smartphone. The worst is that it can altering the information saved in a computer's memory once attack successful.
An academic paper describes an attack called "GLitch," which leverages two different techniques to achieve a compromise of a web browser using WebGL (see below url for reference).
https://www.vusec.net/wp-content/uploads/2018/05/glitch.pdf
Impact
The attacker may be able to bypass security features provided by the web browser.
Observation:
Microsoft and Cisco announce that they will intend to integrate New Intel Threat Detection Technology to Help Defend Against Advanced Security Threats last month.
I think they have to consider this technincal problem before click start of their project.
https://newsroom.intel.com/editorials/securing-digital-world-intel-announces-silicon-level-security-technologies-industry-adoption-rsa-2018/
Status:
| Vendor | Status | Date Notified | Date Updated |
| --- | --- | --- | --- |
| Google | Affected | 16 Mar 2018 | 03 May 2018 |
| Mozilla | Affected | 16 Mar 2018 | 03 May 2018 |
| Microsoft | Not Affected | 16 Mar 2018 | 25 Apr 2018 |
| AMD | Unknown | 16 Mar 2018 | 16 Mar 2018 |
| Apple | Unknown | 16 Mar 2018 | 16 Mar 2018 |
| Arm | Unknown | – | 26 Apr 2018 |
| BlackBerry | Unknown | 16 Mar 2018 | 16 Mar 2018 |
| Brave Software | Unknown | 16 Mar 2018 | 16 Mar 2018 |
| Broadcom | Unknown | 16 Mar 2018 | 16 Mar 2018 |
| IBM, INC. | Unknown | 26 Apr 2018 | 26 Apr 2018 |
| Imagination Technologies | Unknown | 16 Mar 2018 | 16 Mar 2018 |
| Intel | Unknown | 16 Mar 2018 | 16 Mar 2018 |
| NVIDIA | Unknown | 16 Mar 2018 | 16 Mar 2018 |
| Opera | Unknown | 16 Mar 2018 | 16 Mar 2018 |
| QUALCOMM Incorporated | Unknown | 16 Mar 2018 | 16 Mar 2018 |