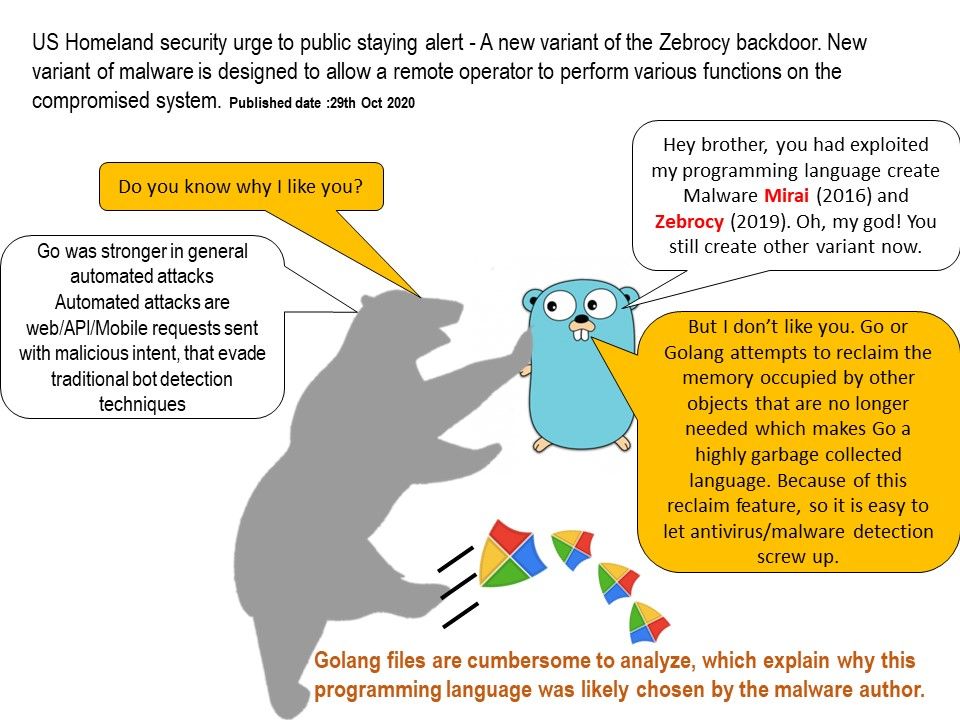 Preface: Some expert comment that because of Go language programming file will be large than usual. It might have possibilities to evade virus scanning. So malware author like to use. Perhaps this is not the major factor.
Background: In July 2019, a security researcher found nearly 10,700 unique samples of malware written in Go programming language, also known as GoLang.
According to the analysis conducted by Imperva. As of 2019 37.97% attack use Python language develop the tool and 31.53% was used Go language. Go language really a compiler (in fact it embeds 2 compilers) and it makes totally self sufficient executable. You don't need any supplementary library or any kind of runtime to execute it on your server.
Technical highlights: Go or Golang attempts to reclaim the memory occupied by other objects that are no longer needed which makes Go a highly garbage collected language. Because of this reclaim feature, so it is easy to let antivirus/malware detection screw up.
Official details: If you are interested in the above matters. Please refer to the link – https://us-cert.cisa.gov/ncas/analysis-reports/ar20-303b