Do you think Banks likely to remain top cyber crime targets. Looks back on 2016 the attackers using different methods which contain malicious attachments being sent to multiple banks. The most famous incident is US$81M Bangladesh Bank Heist on May 2016. We all known as a script kiddie is hard to create such storm. IT Dept especially financial institution they spend their man power and affords on end user computing area. Even though mobile phone, mobile computing devices and workstation are under IT governance.
Dridex is a strain of banking malware that leverages macros in Microsoft Office to infect systems. Earlier this year Symantec alerts the world that new malware is going to harvest the banking credentials of victims. And claimed that Dridex is now one of the most dangerous pieces of financial malware in the world.
Why does Dridex so dangerous?
As we know, tradition of malware operation relies on dropper file. A dropper is a program (malware component) that has been designed to "install" some sort of malware (virus, backdoor, etc.) to a target system. The earlier generation of dropper file package EXE file extension. As times go by anti-virus vendor has solutions quarantine malicious file. Whatever you receive on workstation anti-virus will isolate the file in sandbox for sterilization. The efficient way to identify malware do a comparison on malicious file checksum value. That is win or lost all depends on information of records (hash value) from antivirus vendor database.
Since the design goal of Dridex targets banking industry. The malware designer fully understand banking environment operation structure. The marco excel programming have large coverage of usage in banking environment. For instance FX (foreign exchange), Finanical, Dealing room, Trade financial…etc. Even though Bloomberg financial services, they have available solution collect the financial news data by microsoft DDE (dynamic data exchange) feature. Since DDE part of Excel spreadsheet function. See how critical of MS office application in banking operations.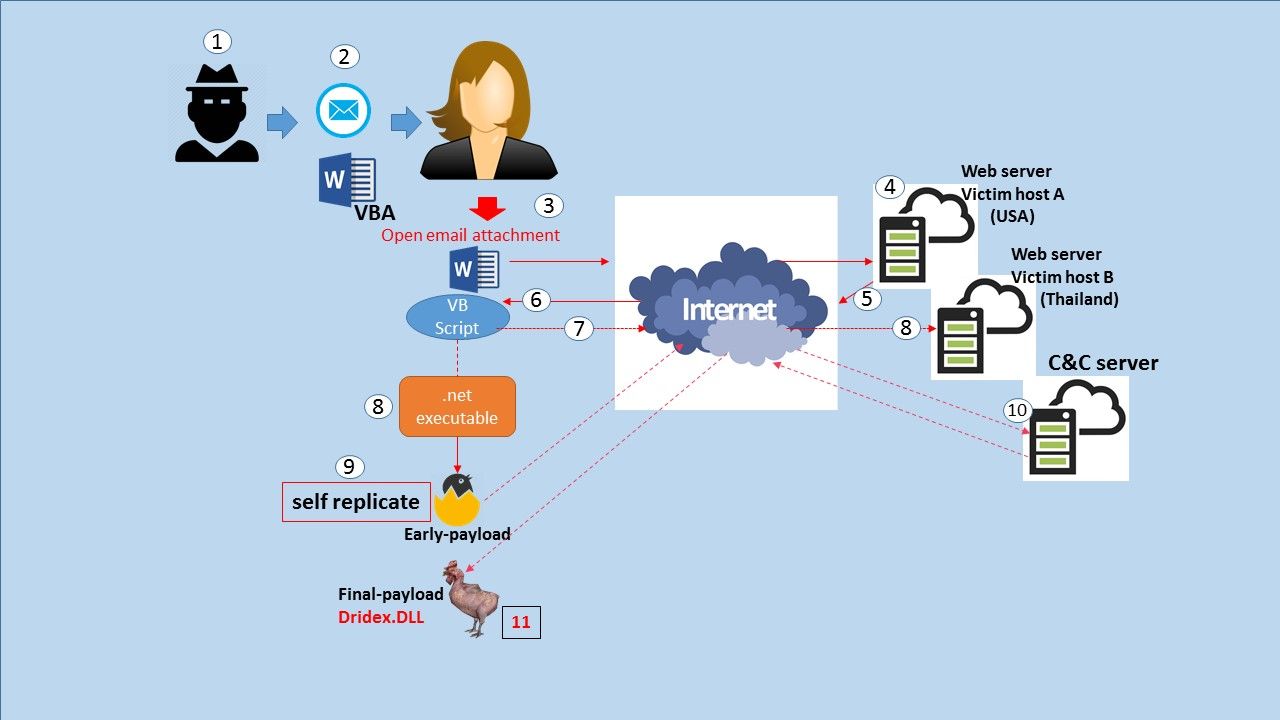 Malware (Dridex) design enjoy the benefits of Microsoft marco language. The marco language like a auto robot assemble the malware body. The 1st phase of attack similar to classic email phishing technique which MS word document embedded (see above picture diagram point 1 – 6). The assemble of malware body incomplete and therefore may not trigger malware detector alarm. Dridex contains self replication feature driven by MS dot net mechanism on 2nd phase of process (see above picture diagram point 7 – 9). A dynamic link library will be assembled in the final phase (phase 3) of the process (see above picture diagram point 9 -11).
Malware detector can properly deny the growth of Dridex
Since classic UTM firewall and antivirus program might have function limitation against this type of malware. There are plenty of anti-malware products in the market have capabilities to reduce such malware infection storm. Friendly speaking, all depends right solution and right direction. No absolute definition. Below Yara rule can provide an idea to you in this regard.
rule Dridex_trojan_XML {
   meta:
      description = 

"Dridex Malware in XML Document"


      author = 

"    "


      date = 

"2016/09/09"


      

hash

1 = 

"666b2121cfb7871cd1354b08d51a36e4"


   strings:
      // can be ascii or wide formatted - therefore no restriction
      

$c_xml

      = 

"<?xml version="


      

$C_word

     = 

"<?mso-application progid=\"Word.Document\"?>"


      $C_macro    = 

"w:macrosPresent=\"yes\""


      

$C_binary

   = 

"<w:binData w:name="


      

$C_0_chars

  = 

"<o:Characters>0</o:Characters>"


      

$c_1_line

   = 

"<o:Lines>1</o:Lines>"


   condition:
      all of (

$c

*)
}

Malicious files contained Dridex footprint (assembly)
Recorded file names:
Dridex Malware.bin
7f6c27356f9809eb7f1e7372dc1556ed76c43c47.doc
2209_0C8D8115C2D2.doc
34A7_FBD7E2BFD4.doc
Malicious site – Analysis date: 2016-10-25
URL: http://50.63.174.16/ (valid till now)
Comment: