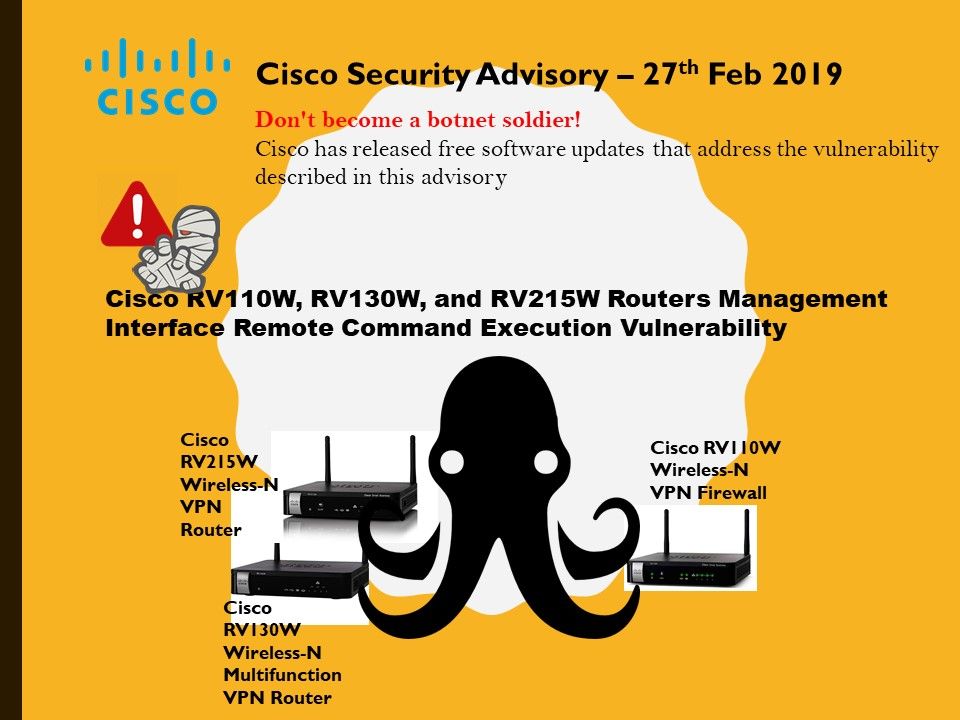 Preface: Huge rise in hack attacks as cyber-criminals target small businesses. For the Average Hacker, Your Small Business Is an Ideal Target .
Vulnerability detail: Improper Restriction of Operations within the Bounds of a Memory Buffer. And therefore causes vulnerability encounter on Management Interface to trigger Remote Command Execution.
Don't become a botnet soldier!
Cisco has released free software updates that address the vulnerability described in this advisory.
For more information, please refer to the URL: https://tools.cisco.com/security/center/content/CiscoSecurityAdvisory/cisco-sa-20190227-rmi-cmd-ex
Version:1.0 StartHTML:000000193 EndHTML:000004936 StartFragment:000004279 EndFragment:000004805 StartSelection:000004279 EndSelection:000004805 SourceURL:https://www.linkedin.com/feed/ LinkedIn Preface: Huge rise in hack attacks as cyber-criminals target small businesses. For the Average Hacker, Your Small Business Is an Ideal Target . Vulnerability detail: Improper Restriction of Operations within the Bounds of a Memory Buffer. And therefore causes vulnerability encounter on Management Interface to trigger Remote Command Execution. Don't become a botnet soldier! Cisco has released free software updates that address the vulnerability described in this advisory. For more information, please refer to the URL: