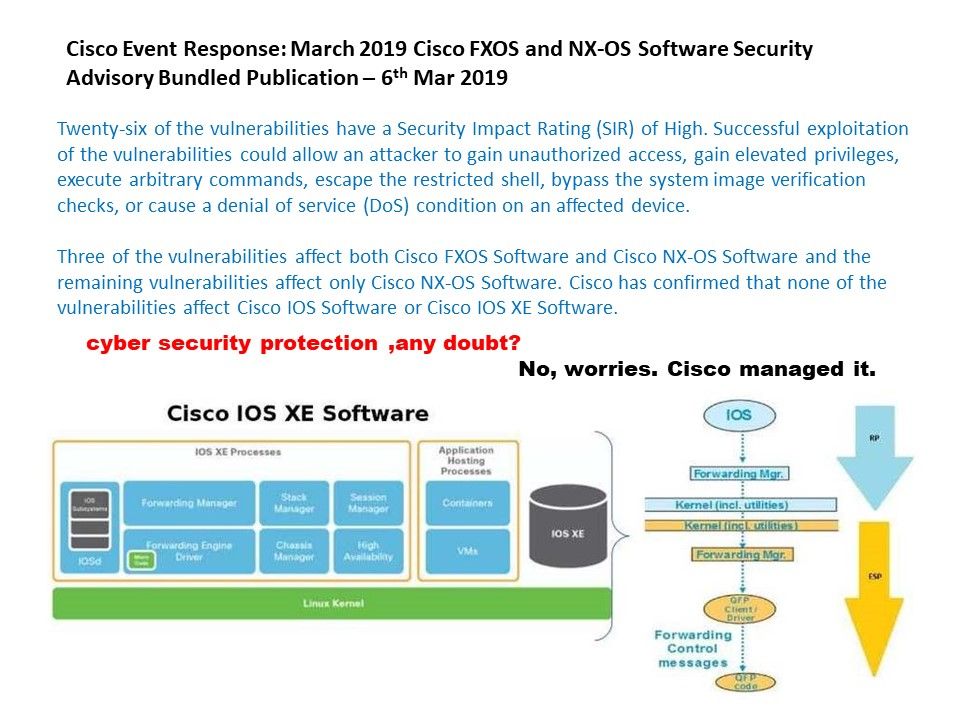 Preface: The urgent announcement by Cisco might scare the customer of Cisco. It is about the vulnerabilities found on Cisco FXOS and NX-OS Software. But no worries, Cisco managed it.
Technical background:
Cisco NX-OS based on Wind River Linux and is inter-operable with other Cisco operating systems. The command-line interface of NX-OS is similar to that of Cisco IOS. Recent NX-OS has both Cisco-style CLI and Bash shell available.
Cisco NX-OS Family perform authentication based on roles. Role-based authorization limits access to switch operations by assigning users to roles.
Vulnerability details: 26 of the vulnerabilities have a Security Impact Rating (SIR) of High. Successful exploitation of the vulnerabilities could allow an attacker to gain unauthorized access, gain elevated privileges, execute arbitrary commands, escape the restricted shell, bypass the system image verification checks, or cause a denial of service (DoS) condition on an affected device.
For more details, please refer to url: https://tools.cisco.com/security/center/viewErp.x?alertId=ERP-70757