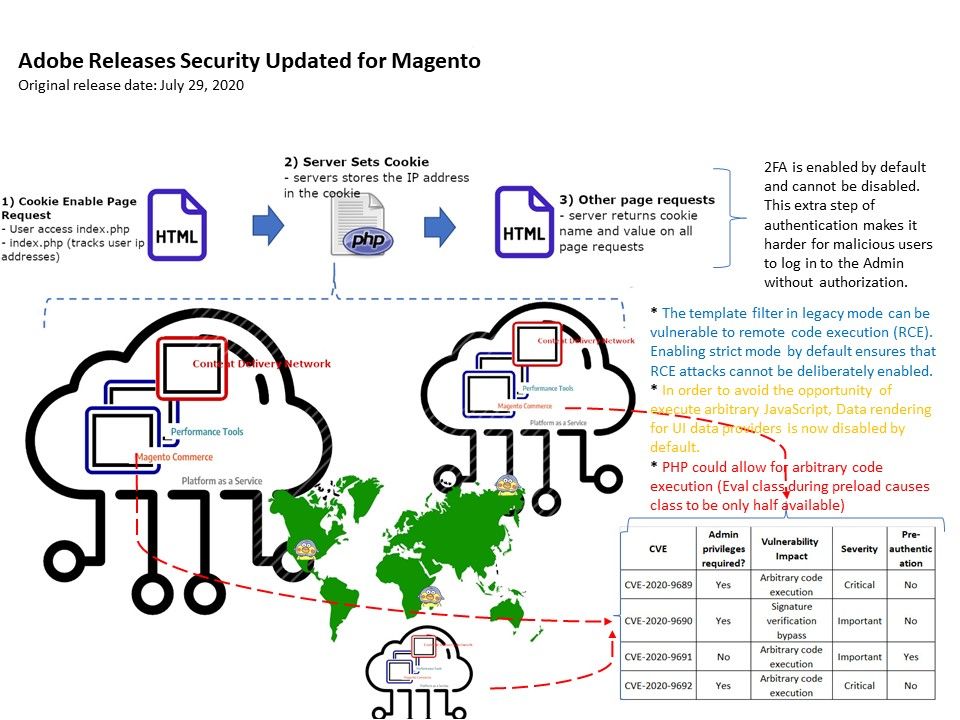 Preface: To be precise, over 250,00 active sites use Magento.
Only 11,000 of those run on Magento 2, though. Many well-known international companies have chosen Magento as their e-commerce solutions, including Coca-Cola, Nike, Harpers Bazar, Fiji Water and Olympus.
Vulnerability details: Adobe has released security updates to address vulnerabilities in Magento Commerce 2 (formerly known as Magento Enterprise Edition) and Magento Open Source 2 (formerly known as Magento Community Edition). An attacker could exploit some of these vulnerabilities to take control of an affected system.
Remedy by Magento:
The template filter in legacy mode can be vulnerable to remote code execution (RCE). Enabling strict mode by default ensures that RCE attacks cannot be deliberately enabled.
In order to avoid the opportunity of execute arbitrary JavaScript, Data rendering for UI data providers is now disabled by default.
PHP could allow for arbitrary code execution (Eval class during preload causes class to be only half available)
2FA is enabled by default and cannot be disabled. This extra step of authentication makes it harder for malicious users to log in to the Admin without authorization.
Official announcement: For more details, please refer to the link – https://helpx.adobe.com/security/products/magento/apsb20-47.html