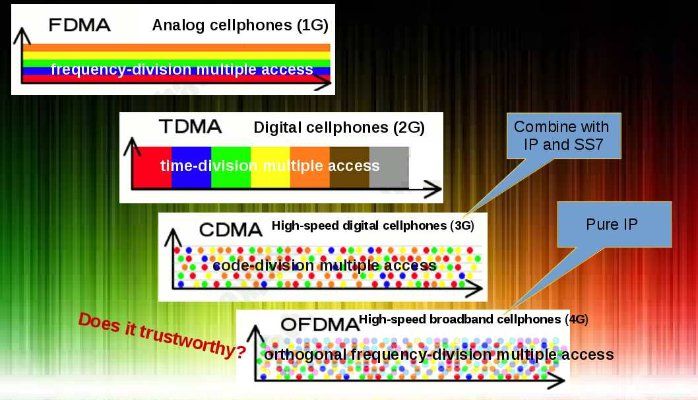 Let's review how cellphones work? Quick & Dirty
1G – frequency-division multiple access (so called analogue cellphones)
It divide the frequency band available into little segments and let each person send and receive on a slightly different frequency.
2G – time-division multiple access (so called digital cellphones)
Phone calls were transmitted by sampling the sound of people's voices and turning each little segment into a numeric code. As well as sharing phone calls between different frequency bands. The design concept is that giving each phone user a short "time share" of the band. The mobile telephony system splits up every calls into digital chunks and sends each chunk at a slightly different time down the same frequency channel.
3G – code-division multiple access (so called high speed digital cellphones)
The fundamental design of idea for code division multiple access are sharing the features of both TDMA and FDMA.  So a number of different callers can use the same radio frequencies at the same time. The 3G networks are a combination of IP and mobile signalling protocols (SS7).
4G – orthogonal frequency-division multiple access (so called high speed broadband cellphones)
A evolution of the three earlier generation of technologies (TDMA, FDMA, and CDMA). With OFDMA technology, signals are digitally coded, chopped into bits, and sent on separate sub-channels at different frequencies. Since signal has been coded and therefore they are not interfere with each other on the same frequency. But the 4G mobile networks are all IP based network. The 4G LTE networks typically include a number of security features that make communications secure.
4G mobile network – Is it trustworthy?
As we know hacker can hack WhatsApp and Telegram by fooling the network causes by Signalling system 7. SS7 is vulnerable since 2008. Mobile phone network services provider has employed security experts to perform analysis of the SS7 systems in use to try and prevent unauthorised access. In the long run, SS7 might going to obsolete in future because of modern technology fast growing trend. The 3G networks are a combination of IP and mobile signalling protocols (SS7). From cellphones users assurance view point, it is better to migrate their services to 4G mobile network instead of 3G.
Just how secure is 4G?
With 4G technology, encryption is only mandatory over the main Radio Access Network (RAN). The traditional crypto and side-channel attacks, 4G security features are able to addressed. The out of band management on 4G network has security considerations. Since the 'backhaul' portion of the network is unencrypted by default. For those company integrate their IT infrastructure to 4G network, they must setup a site to site VPN tunnel (IPsec) connect to other side end point. The primary weakness in 4G security is that its use of cryptography does not provide end-to-end security. It only encrypts the traffic between the phone and the base station, but there is no encryption while the data is communicated over the wired network. This means that there is no security against a malicious or compromised carrier.
Unforeseen attack vector due to speedy network
The 4G cellphones that have been infected with malware and are under the control of hackers could also become part of a 'botnet', and be used to conduct more advanced attacks, due to the increased bandwidth of 4G. The average download speed for 4G LTE is about 20Mbps. It is faster than traditional 3G network speed 6 times. The Multicast Video delivery scheme in OFDMA-based 4G wireless networks, to optimize multicast video traffic. On the other hand multicast video delivery, which is vulnerable to malicious video flooding attacks. The cyber attack has been changed. From traditional non mobile type network migrate to mobile computing network. The high network speed boost up DDOS power unintentionally. This is the major factor cause distributed denial-of-service (DDoS) attacks rapidly increase.
Theoretical mobile network bandwidth infographic:
Additional key factor :
4G mobile network lure hackers engage cyber attack. It is a jump board. A critical flaw was discovered in the ASN.1 compiler used by leading telecommunications and networking vendors. ASN.1 is an essential ingredient for achieving the lightning-fast mobile broadband networks of the 21st century. Protocols such as 4G: LTE RRC, LTE S1/X2 and IEEE 802.16m WiMAX are defined using ASN.1. Since the extent of the vulnerability of ASN.1 has yet to be determined. And such a way let the 4G mobile network inherent risk increases.
Short term conclusion:
The 4G mobile network looks not secure compared to other mobile network.
Reference: Flaw found ASN.1 & SS7
https://www.linkedin.com/pulse/how-protect-your-premises-found-vulnerability-isnt-picco