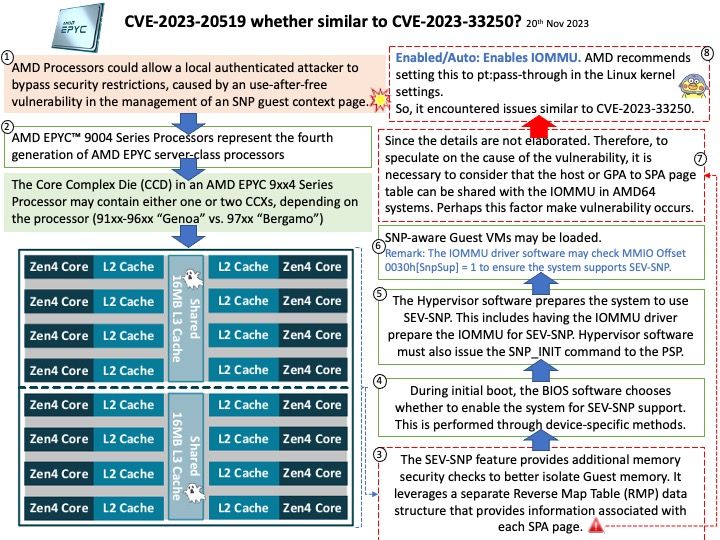 Preface: The term cloud native refers to the concept of building and running applications to take advantage of the distributed computing offered by the cloud delivery model. Cloud native involves cloud technologies like microservices, container orchestrators, and auto scaling. AMD 4th Gen EPYC CPU EPYC 97X4 processors, with up to 128 cores, deliver up to 3.7x throughput performance for key cloud native workloads.
Background: AMD EPYC™ 9004 Series Processors represent the fourth generation of AMD EPYC server-class processors. The 4th Gen AMD EPYC processors with AMD 3D V-Cache technology further extend the AMD EPYC 9004 Series of processors to deliver the world's best x86 CPU for technical computing workloads such as computational fluid dynamics (CFD), finite element analysis (FEA), electronic design automation (EDA) and structural analysis.
Vulnerability details: AMD Processors could allow a local authenticated attacker to bypass security restrictions, caused by an use-after-free vulnerability in the management of an SNP guest context page. By sending a specially crafted request, an attacker could exploit this vulnerability to masquerade as the guest's migration agent resulting in a potential loss of guest integrity.
Platforms Affected:
AMD 3rd Generation EPYC
AMD 4th Generation EPYC
Official announcement: Official details: Please refer to the link for details –https://www.supermicro.com/en/support/security_AMD_Nov_2023?mlg=0